The winter season is upon us, meaning the well-being of concrete jobs is on everyone's mind. What waterproofing measures have you used to combat the harsh Southern Ontario winter's effect on concrete? Hopefully one that is incredibly durable. This means there is no better time to discuss the wonderful product that is the Kryton Krystal Internal Membrane, frequently known simply as KIM.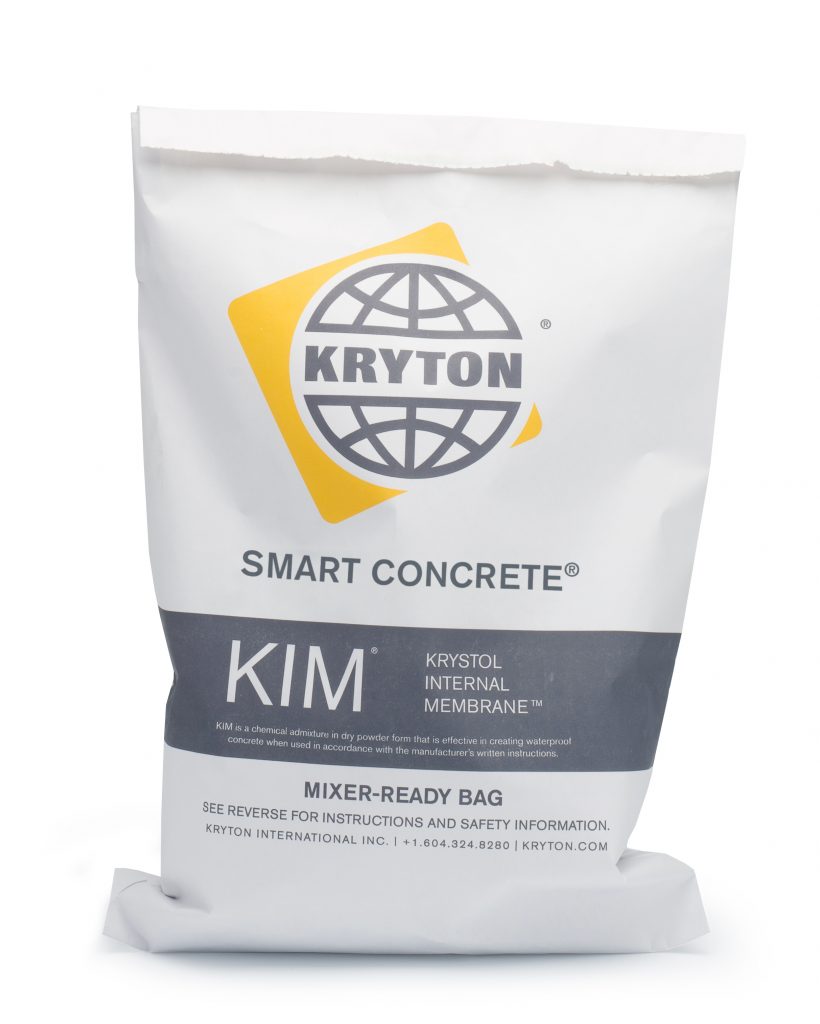 What is KIM and What Makes it Different?
Kryton's Krystal Internal Membrane (KIM) is a hydrophilic crystalline admixture used for essentially permanently waterproofing concrete. KIM is not your regular admixture, it is a crystalline admixture, meaning it provides improved concrete durability while also stimulating the healing of cracks in concrete.
How Does KIM work?
The specific Crystalline materials used, in principle, work so that the chemical components chemically react with a cementitious matrix in the process of hydration. When added to concrete, KIM chemically reacts with water and un-hydrated cement particles to form insoluble needle-shaped crystals that fill capillary pores and micro-cracks in the concrete and block the pathways for water and waterborne contaminants. Any moisture introduced over the lifespan of the concrete will initiate crystallization, ensuring permanent waterproofing protection. For more information on the science involved with KIM visit https://www.kryton.com/technical-info/technical-data-sheets/TDS-Krystol-Internal-Membrane-KIM.pdf. The product simply works and is one of our most popular items because of this. It is no surprise that KIM was the winner of the Most Innovative Product Award at World of Concrete in 2003. See here at https://www.kryton.com/media-releases/2003/03/13/kim-admixture-wins-most-innovative/.
Why Use KIM?
KIM provides an incredible added value for your concrete, as an admixture because the protection of buildings against subsurface water and moisture is one of the most frequent jobs. These jobs are incredibly common and definitely add up in money spent on products as well as the labour involved, and as everyone knows, repeating jobs is never a good option financially. KIM eliminates these problems from the start. KIM comes at a slightly higher price-tag than other admixtures for this reason, however, the worth is definitely evident. KIM removes the process of frequently repairing water and moisture damage to concrete/buildings giving you the freedom to not worry about having to repair jobs in the near future and focus can be shifted elsewhere.
When Should KIM Be Used?
KIM has been recommended for jobs such as:
– Below grade parking
– Basements
– Sewage plants
– Swimming pools
– Dams
– Foundation walls (See example here: https://formandbuild.com/projects/effort-trust-kryton-kim/)
– Footings
– Slabs
– Pits (See example here: https://formandbuild.com/projects/press-pit/)
– Water containment tanks
– Canals
– Another example: https://formandbuild.com/projects/waterloo-memorial-recreation-complex/
Closing Thoughts
In the end, money is definitely saved by having a product that vastly improves the lifetime durability of projects undertaken. Everyone likes a job well done, and KIM provides exactly that, with long-standing use creating nothing but pleased customers and happy workers. There is no wonder why many are switching from traditional admixtures to the Kryton Krystal Internal Membrane. Make sure to get yourself a bag (or more) by getting a quote online at our website www.formandbuild.com or by calling today and speaking with a sales representative.