Is it Cost-Effective?
Stamped concrete, otherwise known as textured, imprinted, or decorative concrete, can replicate stones (such as slate and flagstone), tile, brick and even wood. Often used as an alternative to patio brick, paving stone, and other paving options. The concrete used in stamped concrete is more affordable than stone used in other methods, and installation costs for concrete pouring are more inexpensive than the labour costs for other jobs. The maintenance required for stamped concrete is not only easier but is also more affordable.
How's the Durability and Maintenance?
With stamped concrete being the more cost-effective option, one might think that quality may lack; however, stamped concrete is incredibly durable and if taken care of long-lasting. Concrete sealing is recommended to be done once a year for jobs such as driveways, might we suggest the Formex Decorative Concrete Sealer and also the W.R. Meadows Decra-Seal. Asphalt and brick used in other methods can chip much more easily compared to stamped concrete. All contributing towards its excellent durability.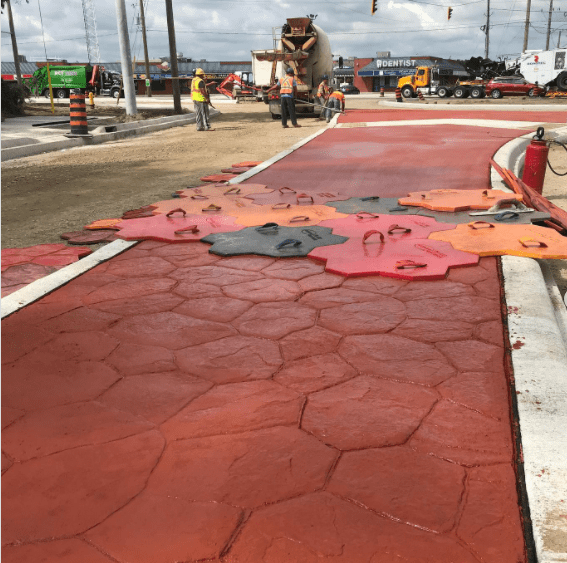 Room for Creativity?
When looking at using stamped concrete over patio brick, paving stone or other paving methods, don't forget to take the near limitless amount of colour and design choices that stamped concrete can offer into account! Going with stamped concrete allows you to pick everything from colour, to design to get the exact look you have in mind. You can use stamped concrete for patios, sidewalks, driveways, pool decks, interior flooring, and much more – allowing you to customize every aspect to your vision.
Where Can You Get Such Great Products?
Wondering what your stamped concrete options look like? Take a look at the decorative section of our website, to see the limitless possibilities and combinations of stamps and finishes available. With plenty of options with brands like Brickform and Proline, we're sure to have what you're looking for! Check us out online at formandbuild.com and get a quote today!